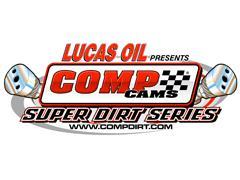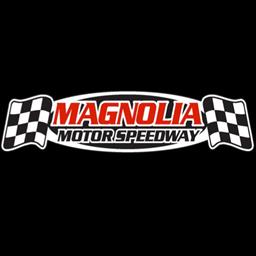 7/3/2017
Magnolia Motor Speedway
---
July 2, 2017 Results
FOR IMMEDIATE RELEASE
Contact: Ben Shelton (msrmafia@gmail.com)
July 2, 2017

Brian Rickman Claims Hometown Win with CCSDS
Columbus, Mississippi (07/02/17) – The COMP Cams Super Dirt Series (CCSDS) presented by Lucas Oil wrapped up their three-day invasion of the Magnolia State on Sunday night with a trip to Johnny Stokes' Magnolia Motor Speedway.
When the dust had settled on the feature, hometown racer, Brian Rickman had claimed his first-career victory with the tour in dominant fashion.
New Vision Graphics Pole Sitter Rick Rickman was joined on the front row for the feature by his brother, Brian Rickman. When the green flag dropped on the feature, Brian bolted to the lead, and it would be the last time that most of his competitors would see him.
As the pilot of the Rickman Trucking #90 Rocket XR-1 Chassis/ Jay Dickens Racing Engine drove away from the field a great battle waged behind him for the runner-up position.
Jack Sullivan, Rick Rickman, Gavin Landers, and Chad Thrash feverishly chased each other through the cushion in pursuit of the runner-up spot.
Thrash would ultimately take control of the position with Rick Rickman settling into the third position. That's how they would cross the finish line.
"My car was awesome, but it was far from easy because my throttle spring broke early in the feature, so I was having to pull the pedal back up with my foot for most of the race,� Brian Rickman said in Victory Lane moments after claiming the $2,000 win. "It feels great to win one of these races finally, and I want to dedicate it to everyone who helps me on this car.�
Jack Sullivan and Gavin Landers completed the Top-5 finishers.
Jon Mitchells received the Larry Shaw Race Cars Hard Charger Award for advancing from the 19th-starting spot to a 13th-place finish.
B.J. Robinson was the recipient of the Henryetta Ford Hard Luck Award after battling issues throughout the night and falling just short of qualifying for the feature.
Next Saturday, July 8 the COMP Cams Super Dirt Series (CCSDS) will invade Boothill Speedway (Greenwood, Louisiana) for a $2,500-to-win event. For more information on the facility, please visit www.BoothillDirt.com .
The COMP Cams Super Dirt Series presented by Lucas Oil is sponsored by and would like to thank all of their sponsors including- COMP Cams, Lucas Oil, Hoosier Racing Tires, Larry Shaw Race Cars, New Vision Graphics, Black Diamond Chassis, KARR Transportation Incorporated, Big Air, Quarter Master, Allen Manufacturing, Mid State Golf Cars, ROCKHARD Powder Coating, Mark Martin Automotive Group, Mark Martin Powersports, Henryetta Ford, Central Arkansas Pest Services, Beach Veterinary Services, Racing Head Service, McClain Custom Cabinets, P&W Sales, Schoenfeld Headers, and MSR Mafia Marketing Services.

For the latest information on the COMP Cams Super Dirt Series presented by Lucas Oil, please visit www.COMPDirt.com .
COMP Cams Super Dirt Series – July 8, 2017
Magnolia Motor Speedway (Columbus, Mississippi)

Feature Results
1)Brian Rickman 2)Chad Thrash 3)Rick Rickman 4)Jack Sullivan 5)Gavin Landers 6)Zach McMillan 7)Michael Arnold 8)Garrett Alberson 9)Eric Cooley 10)Brett White 11)Robert Baker 12)Chris Wall 13)Jon Mitchell 14)Robbie Stuart 15)Jamie Tollison 16)Jay Scott 17)Tanner Kellick 18)BJ Robinson 19)Shelby Sheedy 20)Kyle Beard 21)Eric Hickerson 22)Oakley Johns

DNS: Shay Knight, Chandler Petty, Jason Taylor, Justin McRee, Tombo Callahan, Brent Barrett, Brandon Wilson, Jason Milam, Phillip Gibson, Dillon Crim, David Payne, Jeff Hubbard

Entries: 34 (Representing seven states)
Group A Fast Qualifier (and overall): Rick Rickman 13.662 seconds
Group B Fast Qualifier: Brian Rickman 14.257 seconds
Black Diamond Chassis Heat Race #1 Winner: Rick Rickman
Allen Manufacturing Heat Race #2 Winner: Michael Arnold
KARR Transportation Heat Race #3 Winner: Brian Rickman
Hoosier Racing Tires Heat Race #4 Winner: Jack Sullivan
Mark Martin Powersports B-Main #1 Winner: Kyle Beard
ROCKHARD Powder Coating B-Main #2 Winner: Oakley Johns
New Vision Graphics Pole Sitter: Rick Rickman
Henryetta Ford Hard Luck Award: Brandon Wilson
Larry Shaw Race Cars Hard Charger: Jon Mitchell (19th-13th)
COMP Cams Top Performer: Brian Rickman
Leaders: Brian Rickman (1-35)
Caution: 0
Car Count 105
Super Late Models 34
NeSmith Late Models 27
Street Stocks 14
Factory Stocks 10
Late Model Sportsman 20

NeSmith Late Models
1- 11 Spencer Hughes
2- 27 Brad Berry
3- 1s Jeremy Shaw
4- 33 Scott Dedwylder
5- 1 Bryant Marsh
6- 232 Jamey Boland
7- 73 Evan Ellis
8- 7 Greg White
9- 2 Tyler Burgess
10- 10 Jason Henry
11- 72 Steve Russell
12- 2s Kyle Shaw
13- 78 Mathew Brocato
14- 33 Terry Wilson
15- 713 Ben Brocato
16- 44 Tim Dees
17- 17 Travis Smith
18- 84 Randall Beckwith
19- 21 Johnny Smith
20- 11 Joey Mullenix
21- 7 Richard Smith
22- 20 Jacob Wooten
23- 8 Grant Pearl
24- c66 Donald Johns

NeSmith Late Model Non-Qualifiers
10 Steven Jones
3 Will Ross
19 Thomas Langley

Street Stock
1- K1 Dewayne Estes
2- 2 Lee Ray
3- 48 Rob Slott
4- 99 Bryan Fortner
5- 53 Ben Keith
6- 25 Brodey Elfring
7- 77 Michael Santangelo
8- 15 Justin Pugh
9- 4 Matt Byram
10- 74 Chase Pennington
11- 44 Ben Byram
12- 12 Darrell Goins
13- 61 Dustin Lane
14- 01 Colby Brandon

Factory Stock
1- 5 Logan Lux
2- 4 Jason Byrd
3- 53 Scooter Ware
4- 22 John Beard
5- 26 Heath Beard
6- 77 Brandon Whitley
7- 10 JC Pearson
8- 1 Seth McNeill
9- 28 Allen Crawford
10- 16 Kevin McWilliams

Late Model Sportsman
1- 21 Jamie Pickard
2- 87 Bill Moffett
3- 3r Kyle Shaw
4- 7z Zack Shelton
5- 67 Kley Clifton
6- 13 Rick Hasselle
7- 24 Mark Thorne
8- 3 Tony Shelton
9- 14 Chance Inman
10- 26 Houston Spurlock
11- 4 John Johnson
12- 10 John Land
13- 54 Chance Pennington
14- 43 Kurt Radojscics
15- 34 Jonathan Pridmore
16- 21 Jason Roberts
17- 14 Mike Pickard
18- 22 Matt Bollinger
19- 25 Chuck Thorne
20- 4 Mitchell Hollaway
Back to News