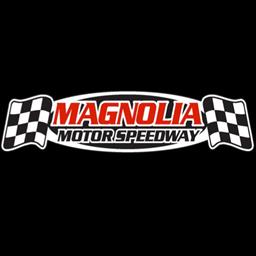 7/20/2022
Magnolia Motor Speedway
---
2022 Cotton Pickin' Rescheduled for September 15-17 at Magnolia Motor Speedway
COLUMBUS, Miss. (07/20/22) – Magnolia Motor Speedway has made the decision to move the 2022 Magnolia State Cotton Pickin' to September 15-17.
The event was originally scheduled for September 22-24 but has been moved to a new date due to a schedule conflict with other Super Late Model specials in the southeast.
"With so many challenges in our sport right now, we want to do our part to work together with other tracks so that we all have the best chance for success. After looking at everything this was the best decision to move the Cotton Pickin' up one week. We've had a great season so far, and we are definitely looking forward to this year's 2022 Magnolia State Cotton Pickin'," said track promoter, Johnny Stokes. "Also, with the new dirt that I added to the track over the past month, I'm really excited to see how great the racing the rest of this season will be!"
The 2022 edition of the Magnolia State Cotton Pickin' is now set for September 15-17.
The mega event will kick off with an Open Practice Session on Thursday, September 15.
Action kicks into high gear on Friday, September 16 with a $4,000-to-win Super Late Model program, while Saturday, September 17 will see a great night of action headlined by a $12,000-to-win Super Late Model finale.
A full bevy of local divisions will join the weekend's slate.
Complete details will be released soon and will be available at www.MagnoliaDirt.com .
Back to News