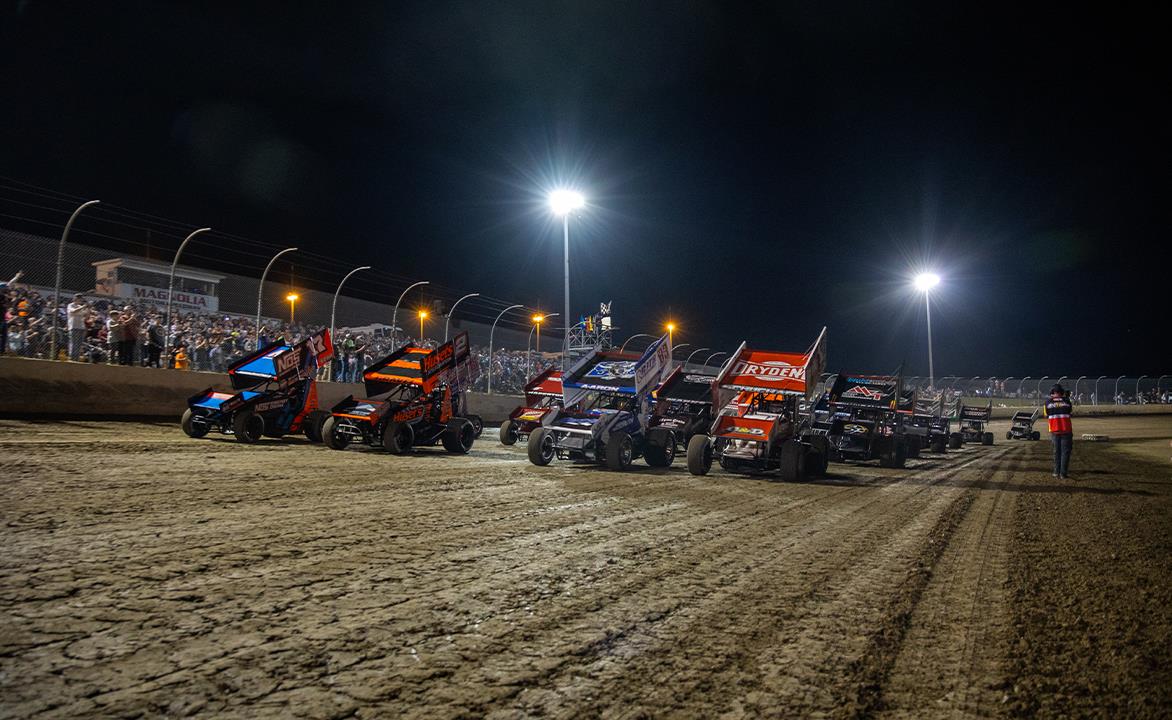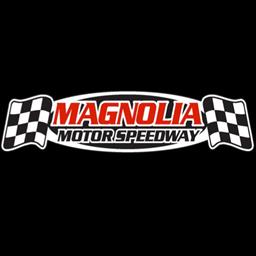 3/21/2023
Magnolia Motor Speedway
---
WHAT TO WATCH FOR: Double Header Down South at Talladega, Magnolia Awaits World of Outlaws
EASTABOGA, AL (March 21, 2023) - After a quick trip to Pennsylvania to conclude the Low-E Insulation Spring Showdown, the World of Outlaws NOS Energy Drink Sprint Cars are southbound.
The Greatest Show on Dirt is gearing up for its only appearances of the year in a pair of neighboring southern states, Alabama and Mississippi.
For the first time since 2011, the World of Outlaws will invade Talladega Short Track this Friday, March 24, marking the 12th Series visit to the Eastaboga, AL track. The following day the tour travels one state west for the second ever trip to Magnolia Motor Speedway (Columbus, MS).
TALLADEGA TICKETS
MAGNOLIA TICKETS
Here are some of this weekend's top storylines:
MARCHIN' MACEDO: The month of March has been especially kind to Carson Macedo. Behind the wheel of the Jason Johnson Racing #41, Macedo has picked up a win and posted a 3.5 average finish through four races this month.
The Lemoore, CA native is also fresh off claiming the inaugural Low-E Insulation Spring Showdown mini-series, banking him an extra $10,000.
The recent stretch of strength has brought Macedo within 12 points of the championship lead heading into the southern stint. Macedo is one of many who will be making his Talladega debut. His lone drive at Magnolia in 2021 saw him finish 21st after a mechanical issue ended his night prematurely.
EVEN PLAYING FIELD?: The pair of races will present an interesting challenge to teams with such limited notebooks. Of the current full-time roster, only three drivers have turned laps at Talladega in World of Outlaws competition. At Magnolia, the only set of data to pull from is the 2021 Series debut at the facility.
With the unique set of circumstances facing crews, this weekend presents a potential opportunity for younger drivers to notch a career best finish or even grab their inaugural World of Outlaws win.
Robbie Price continues to navigate his rookie campaign and hopes this weekend can yield strong results. He'll have the benefit of his car owner/crew chief, Jason Sides, who has driven in eight World of Outlaws Features at Talladega, posting a pair of top 10s. Price already tallied his third career Series top-10 this season at Volusia Speedway Park.
Noah Gass is another driver on the rise who hopes to perform well this weekend. While he didn't qualify for the Feature, Gass made his World of Outlaws debut at Magnolia in 2021. Two years later he returns as a sophomore on the tour.
TALLADEGA TRACK TIME: The trio of active World of Outlaws who've competed at Talladega in Series competition hope the experience proves advantageous.
David Gravel may serve as inspiration for those seeking their first win. In 2011, as a 19-year-old, Gravel claimed his first World of Outlaws win at the red clay oval. The current driver of the Big Game Motorsports #2 outdueled a red-hot Jason Meyers in the Series most recent Talladega appearance for the first of his now 79 victories. The Watertown, CT native heads into the weekend as the points leader.
Donny Schatz finished behind Gravel that night, and the 10-time Series champion enters this weekend as the most experienced active competitor at the Alabama track. The Tony Stewart Racing/Curb Agajanian driver has competed in all 11 World of Outlaws races hosted by Talladega. Schatz is yet to win at the facility but has been close with five top-five finishes including a pair of runner-ups.
Kasey Kahne was also present in 2011, operating within dual roles. The race took place during a NASCAR Cup Series weekend at Talladega Superspeedway – less than 10 minutes away from the Talladega Short Track – and Kahne served as a promoter and driver for the World of Outlaws race. The Enumclaw, WA native finished eighth that night, notching one of his now 34 career Series top 10s.
MAGNOLIA MASTERS: A few current World of Outlaws full-timers took a liking to Magnolia during the Series' inaugural race in 2021.
Sheldon Haudenschild came away with the victory that night, making a late pass for the lead and pacing the final six circuits. The Wooster, OH native has been one of the most consistent drivers this season with five top 10s in six races aboard the Stenhouse Jr./Marshall Racing #17.
The driver Haudenschild passed for the top spot was Logan Schuchart. The Shark Racing pilot still finished runner-up at Magnolia after leading the opening 24 laps, earning one of his now 121 World of Outlaws podiums. The Hanover, PA native currently sits third in points (14 behind Gravel) this season, having finished no worse than eighth. He and Macedo are the only two yet to miss the top 10.
Completing the Magnolia podium in 2021 was four-time and defending World of Outlaws champion, Brad Sweet. "The Big Cat" enters this weekend carrying the momentum of runner-ups in two of the last three Features.
Oddly enough, the next three in the finishing order that night was the aforementioned trio of drivers with Talladega experience. Donny Schatz, Kasey Kahne (started 23rd), and David Gravel filled positions fourth through sixth. After those three it was current Series Rookie of the Year contender, Gio Scelzi, in seventh.
'DEGA AND THE MAG CONNECTIONS: A couple current members of the World of Outlaws roster have ties to previous events at both tracks despite not having raced at them in the form of car ownership.
Spencer Bayston has the benefit of driving for CJB Motorsports, who took part in the 2021 event at Magnolia, finishing 15th with Brent Marks. Bayston has been building some momentum recently. After finishes of 16th, 19th, and 12th to begin the year, the Lebanon, IN native has improved to the tune of sixth, fifth, and 11th in his last three races.
James McFadden is behind the wheel of a car that nearly snagged a Talladega triumph – the Roth Motorsports #83. Back in 2003, Tim Shaffer drove the Beef Packers machine to a Talladega runner-up. McFadden has already won once this season in Florida and looks for more southern success.
INVADERS: In addition to the crop of full-time World of Outlaws, more talented drivers are planning to venture into Alabama and Mississippi.
Rico Abreu is fresh off topping his first Sprint Car race of the year with The Greatest Show on Dirt at Lincoln Speedway, and he's aiming for more this weekend. However, Talladega and Magnolia will be a new experiences for the St. Helena, CA driver as he's yet to compete at either track.
Buddy Kofoid has competed in every World of Outlaws race this season with CMS Racing and plans to continue to do so through at least Talladega and Magnolia. The 21-year-old has been consistent with a pair of podiums and four top 10s so far.
If you can't make it to the track, watch every lap live on DIRTVision.
THIS WEEKEND AT A GLANCE
WHEN AND WHERE
– Friday, March 24 at Talladega Short Track in Eastaboga, AL
– Saturday, March 25 at Magnolia Motor Speedway in Columbus, MS
ON THE INTERNET
World of Outlaws NOS Energy Drink Sprint Car Series
Twitter – @WorldofOutlaws
Instagram – @WoOSprint
Facebook – Facebook.com/WorldofOutlawsSprintCarSeries
YouTube – Youtube.com/WorldofOutlaws
DIRTVision – DIRTVision.com – Platinum annual FAST PASS for $299 or monthly FAST PASS for $39/month
CURRENT CHAMPIONSHIP STANDINGS (6/84 Races)
2 – David Gravel (852 PTS); 2. 41 – Carson Macedo (-12PTS) 3. 1S – Logan Schuchart (-14PTS); 4. 49 – Brad Sweet (-40PTS) 5. 11 – Michael Kofoid (-48PTS) 6. – 83 James McFadden (-60PTS); 7. 17 – Sheldon Haudenschild (-66PTS); 8. 5 – Spencer Bayston (-90PTS); 9. 15 – Donny Schatz (-92PTS); 10. 13 – Justin Peck (-112 PTS)
NOS ENERGY DRINK FEATURE WINNERS (4 Drivers):
3 wins – David Gravel, Big Game Motorsports #2
1 win – James McFadden (Roth Motorsports #83), Carson Macedo (Jason Johnson Racing #41), Rico Abreu (Rico Abreu Racing #24)
FEATURE LAPS LED (9 Drivers):
54 laps – David Gravel
30 laps – James McFadden
22 laps – Brad Sweet
21 laps – Carson Macedo
13 laps – Rico Abreu
11 laps – Buddy Kofoid
10 laps – Anthony Macri, Cory Eliason
9 laps – Gio Scelzi
LOW-E INSULATION QUICKTIME AWARDS (5 Drivers):
2 QuickTimes – Carson Macedo
1 QuickTime – Anthony Macri, Logan Schuchart, Brian Brown, Donny Schatz
HEAT RACE WINNERS (13 Drivers):
3 Heat Wins – Logan Schuchart, Buddy Kofoid, Carson Macedo, David Gravel
2 Heat Wins – Brent Marks
1 Heat Win – James McFadden, Brian Brown, Spencer Bayston, Gio Scelzi, Donny Schatz, Danny Dietrich, Freddie Rahmer, Brad Sweet
TOYOTA DASH APPEARANCES (22 Drivers):
5 Dashes – Logan Schuchart, David Gravel
4 Dashes – Carson Macedo
3 Dashes – Buddy Kofoid, Jacob Allen, Brad Sweet
2 Dashes – Brent Marks, Brian Brown, Donny Schatz, Danny Dietrich, Spencer Bayston
1 Dash – Anthony Macri, Sheldon Haudenschild, Robbie Price, Cory Eliason, Justin Peck, James McFadden, Gio Scelzi, Kasey Kahne, Freddie Rahmer, Rico Abreu, Devon Borden
MICROLITE LAST CHANCE SHOWDOWN WINS (4 Drivers):
1 LCS Win – Brock Zearfoss, Parker Price-Miller, Sheldon Haudenschild, Gio Scelzi
KSE HARD CHARGER AWARDS (5 Drivers):
2 Hard Chargers – Brock Zearfoss
1 Hard Charger – Tyler Courtney, Donny Schatz, James McFadden, Gio Scelzi
PODIUM FINISHES (12 Drivers):
4 Podiums – David Gravel
2 Podiums – Buddy Kofoid, Carson Macedo, Brad Sweet
1 Podium – Danny Dietrich, Logan Schuchart, James McFadden, Brian Brown, Kasey Kahne, Jacob Allen, Rico Abreu, Devon Borden
TOP 10 FINISHES (24 Drivers):
6 Top 10s – Carson Macedo, Logan Schuchart
5 Top 10s – Sheldon Haudenschild, Brad Sweet, David Gravel
4 Top 10s – Buddy Kofoid, James McFadden
3 Top 10s – Donny Schatz, Justin Peck
2 Top 10s – Brian Brown, Spencer Bayston, Brent Marks, Danny Dietrich
1 Top 10 – Aaron Reutzel, Brock Zearfoss, Cory Eliason, Kasey Kahne, Robbie Price, Tyler Courtney, Zeb Wise, Jacob Allen, Rico Abreu, Devon Borden, Gio Scelzi
2023 WORLD OF OUTLAWS SPRINT CAR SCHEDULE & WINNERS:
No. / Day, Date / Track / Location / Winner (Total Wins)
Fri, Feb 10 / Volusia Speedway Park / Barberville, FL / David Gravel (1)
Fri, Feb 10 / Volusia Speedway Park / Barberville, FL / David Gravel (2)
Sat, Feb 11* / Volusia Speedway Park / Barberville, FL / James McFadden (1)
Sun, March 5 / Volusia Speedway Park / Barberville, FL / Carson Macedo (1)
Mon, March 6 / Volusia Speedway Park / Barberville, FL / David Gravel (3)
Sat, March 18 / Lincoln Speedway / Abbottstown, PA / Rico Abreu (1)
Back to News