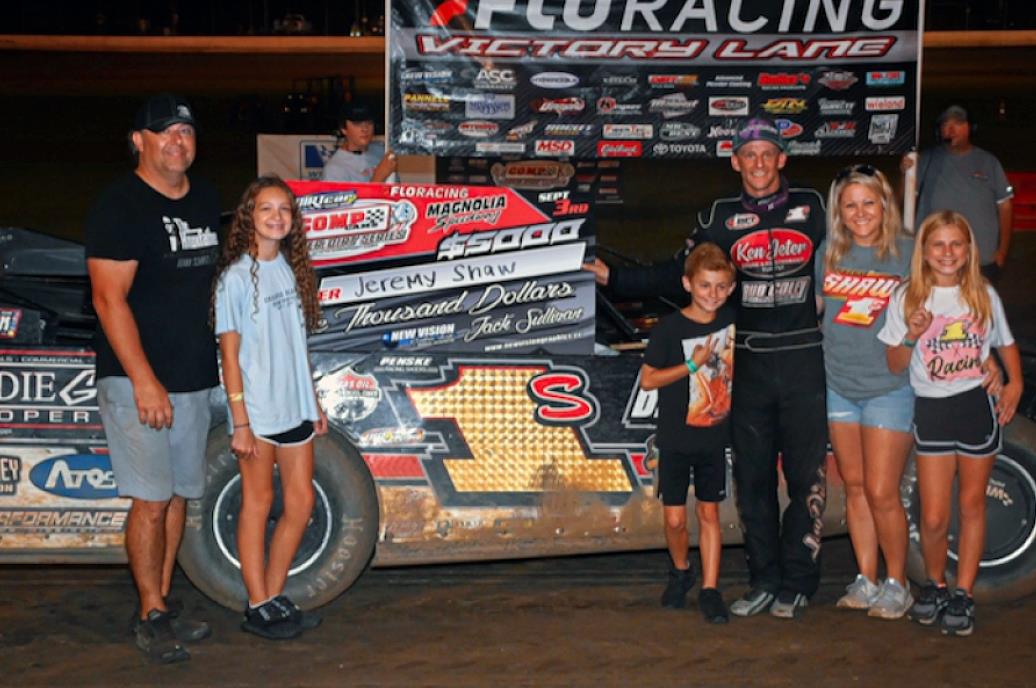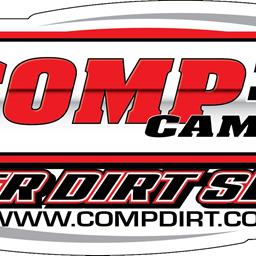 9/3/2023
COMP Cams Super Dirt Series (CCSDS)
---
Jeremy Shaw Goes Elbows Up for CCSDS Magnolia Triumph
COLUMBUS, Miss. (09/03/23) – Overcoming a field of tough competitors along with track conditions left challenging from heavy rains in the days leading up to the event, Jeremy Shaw picked up his first-career COMP Cams Super Dirt Series (CCSDS) Super Late Model Series victory on Sunday evening at Magnolia Motor Speedway.
The Millport, Alabama earned $5,000 for the triumph.
""Man I don't even know what to say, this is not my kind of racetrack," Shaw said. "I like it slick and slow and before we started tonight, I told my car owner (Jason Steele), I was like 'Look, I'm just gonna try to stay out of the way'. We weren't really any good last week, we hit on something tonight, kinda trying to get ready for the big race coming up in a couple weeks."
The event drew 31 CCSDS Super Late Models to the 3/8-mile oval, and Brian Rickman earned the NewVisionCustomShirts.com Pole Award for the feature with Jeremy Shaw joining him on the front row for the event, which was shortened to 30 laps due to the challenging track surface.
The first circuit was led by third-starting B.J. Robinson before Jeremy Shaw powered to the lead on the second lap. Once out front Shaw kept his elbows up to claim his first-ever series win.
Eleventh-starting Evan Ellis finished second, while Brian Rickman, B.J. Robinson, and Trey Mills completed the Top-5 finishers.
The COMP Cams Super Dirt Series now turns its attention to an Ark-La-Tex doubleheader weekend on Sept. 8-9 for a pair of $5,00-to-win events. Action opens at Texarkana (Ark.) 67 Speedway on Friday with the Kenneth Mitchell Memorial before shifting to Boothill Speedway (Greenwood, La.) on Saturday for the 51st annual Louisiana Dirt Track State Championship.
The weekend opens this Friday at 67 Speedway of Texarkana during the annual Kenneth Mitchell Memorial. Sharing the spotlight will be the Non-Wing Short Track Nationals opener, which is co-sanctioned by the Amsoil USAC Sprint Cars and Elite Non-Wing Sprint Car Series.
Pits open at 4 p.m. with grandstand gates opening at 5 p.m., hot laps at 7:30 p.m. and racing action at 8 p.m.
On Saturday at Boothill Speedway, the CCSDS contingent will be joined at the 51st annual Louisiana Dirt Track State Championship by the USRA Factory Stocks ($1,000-to-win), USRA Limited / B-Mods ($1,000-to-win), USRA Tuners ($400-to-win), Pro Mods ($600-to-win), and Sportster ($400-to-win).
General admission (ages 11-and-up) is $20 with kids (ages 5-10) free and children (ages 4 and under) free. Pit passes (ages 11-and-up) are $35 with kids (ages 5-10) $20 and children (ages 4 and under) free. Pits open at 4 p.m. with grandstands opening at 5 p.m. Hot laps are at 7 p.m. with racing action to follow.
The tire rule for the weekend is as follows:
Front Tires & Left Rear: Hoosier NLMT2, LM20, NLMT3, LM30
Right Rear: Hoosier NLMT3, LM30
For more information on the facilities, please visit www.67SpeedwayOfTexarkana.com and www.BoothillDirt.com.
The COMP Cams Super Dirt Series is sponsored by and would like to thank all of their sponsors including- COMP Cams, Pannell Chipping, VP Racing Fuels, Mark Martin Automotive, Keyser Manufacturing, Hyperco, Weiland Metal Services, Case No. 1 Engine Oil, Fiber Tec Laser Cutting, P&W Sales, Mississippi Police Supply, Mr. Dent Paintless Dent Removal & Collision Repair, FloRacing, Tommy Surrett Trucking, NewVisionCustomShirts.com, Rocket Chassis, Midwest Sheet Metal, Black Diamond Chassis, World Racing Group, Hoosier Race Tires, Smiley's Racing Products, Dixon Road U-Pull-It, Beach Veterinarian Services, Air Power Consultants, Schoenfeld Headers, MI Truck Center, ASC Warranty, Quickcar Racing Products, Deatherage Opticians, Taylor Electric, DIRTcar Racing, Mid-State Golf Cars LLC, Delta Thunder Motorsports, Advanced Powder Coating, Farmer's Tree Service, Autocraft Paint & Bodyworks, Toyota, MSD, ARP, Edelbrock, MD3 Five Star Bodies, Chevrolet Performance, SUBLMTD Apparel, and MyRacePass Website & PR Services.
For the latest information on the COMP Cams Super Dirt Series presented by Lucas Oil, please visit www.COMPDirt.com.
COMP Cams Super Dirt Series – September 3, 2023
Magnolia Motor Speedway (Columbus, Miss.)
A Feature 1 (40 Laps): 1. 1S-Jeremy Shaw[2]; 2. 73-Evan Ellis[11]; 3. 90R-Brian Rickman[1]; 4. 1-BJ Robinson[3]; 5. 14-Trey Mills[4]; 6. 21-Billy Moyer Jr[5]; 7. 86B-Kyle Beard[17]; 8. 19-Jamie Burford[21]; 9. 17-Jarret Stuckey[18]; 10. 5-Jon Mitchell[16]; 11. R5-Hunter Rasdon[12]; 12. 88-Chance Mann[23]; 13. (DNF) 14M-Morgan Bagley[9]; 14. (DNF) 78-Matthew Brocato[13]; 15. (DNF) 64-Braden Mitchell[14]; 16. (DNF) 1C-Chad Thrash[10]; 17. (DNF) 21XXX-Neil Baggett[7]; 18. (DNF) 18C-Matt Cooper[20]; 19. (DNF) 10C-Ronnie Cooper[19]; 20. (DNF) 11-Jon Kirby[15]; 21. (DNF) 46-Bryson Mitchell[8]; 22. (DNF) USA128-Kylan Garner[22]; 23. (DNF) 44D-Dalton Cook[6]
DNS: Stephen Brantley, Mike Myers, David Breazeale, Cody Leonard, Ryan Wilson, Mark Clifton, Cale Finley, Ashton Winger
Entries: 31
Mark Martin Automotive Group A Fast Qualifier: Brian Rickman (13.464 sec.)
Mark Martin Automotive Group B (and overall) Fast Qualifier: Jeremy Shaw (13.074 sec.)
Mississippi Police Supply Heat Race #1 Winner: Brian Rickman
Delta Thunder Motorsports Heat Race #2 Winner: B.J. Robinson
SUBLMTD Heat Race #3 Winner: Jeremy Shaw
Weiland Heat Race #4 Winner: Trey Mills
B-Main Winners: Kyle Beard, Jarret Stuckey
MD3 Five Star Bodies Hard Charger: Evan Ellis (11-2)
Lap Leaders: B.J. Robinson (1), Jeremy Shaw (2-40)
Hyperco Hot Lap Fastest Lap: Jeremy Shaw (13.074 sec.)
Deatherage Opticians Lucky 13: Morgan Bagley
NewVisionCustomShirts.com Pole Sitter: Brian Rickman
COMP Cams Top Performer: Jeremy Shaw
Midwest Sheet Metal Marked Man: Billy Moyer Jr.
Midwest Sheet Metal Rookie: Jamie Burford
---
Article Credit: Simple Moments Photography
Back to News